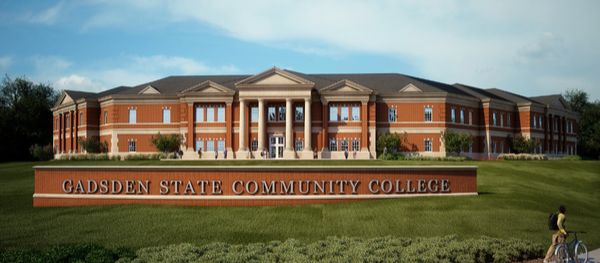 Explore HBCU – Gadsen State Community College
Gadsden State Community College is a public, historically black community college located in the cities of Gadsden, Centre, and Anniston, Alabama
Background
Gadsden State Community College is the product of a merger between Alabama Technical College, Gadsden State Technical Institute, Gadsden State Junior College, and Harry M. Ayers State Technical College.
Founded in 1925 as the Alabama School of Trades, Alabama Technical College was the first state-operated trade school in the south and is the oldest of Gadsden State's campuses; it is now the East Broad Street Campus and home to a number of Gadsden State's technical programs.
Gadsden State Technical Institute was founded in 1960 as a private vocational training for black students; it is now the Valley Street Campus and home to the Construction Technology Program, Certified Nursing Assistant Program, Diagnostic Medical Sonography Program, Therapeutic Massage Program, Air Conditioning and Refrigeration Program, and several academic courses.
Gadsden State Junior College was founded in 1965 by an act of the Alabama State Legislature; it is currently the Wallace Drive Campus, where offerings include the Inzer Student Center, Fowler Residence Hall, the Beck Field House and Conference Center, Wallace Hall Fine Arts Center, and academic course offerings.
As part of a statewide effort to remove duplicate community college programs, in 1985 all three schools were consolidated by the Alabama State Board of Education in Gadsden State Community College.
Then, in 2003 the Harry M. Ayers State Technical College—originally founded in 1963 as a trade school—was further merged into Gadsden State Community College as part of the effort to eliminate duplication of courses. This branch of the college is now the Ayers Campus. Finally, for purposes of expansion and student accommodation, Gadsden State opened the Cherokee County Instructional Site which is a multi-level complex that offers an expanded list of courses for students wishing to earn an associate degree or transfer to a four-year institution.
Programs & Opportunities
Gadsden State is a comprehensive community college that—due to its large array of campuses and educational centers—is able to offer a variety of course, degree, and academic opportunity offerings. At Gadsden, administrators, faculty, and staff work together to prepare students for direct-entry into the workplace or transfer to a four-year university. There are more than 70 programs of study that span academic programming, technical programming, health sciences, and skills training.
Learn more about Gadsden State Community College's degree and certificate offerings here.
Alumni Affairs
Gadsden Alumni are often active members within their community:
Dr. Teresa Rhea, Dean of Enrollment and Retention, recently spearheaded a project to help purchase and plant trees for a new green space being developed on Gadsden State's campus after receiving the Good Roots Grant by the Alabama Power Foundation.
Jacob Vanderforb, member of the Alumni Association Board of Directors, received an award for being an outstanding mentor for an Automotive Student Excellence (ASE) student in Automotive Service Technology for 2018.
Brian Galimore, Alumni Association student member, walked the course at the Gadsden Heart Walk on May 4, 2019 to help raise funds to honor survivors of cardiovascular disease and stroke within the community.
Financial Information
Through the acquisition of various federal, state, and private sources, the Gadsden State Financial Aid Office is able to help meet the needs of and encourage students in the pursuit of postsecondary education. Tuition and fees for a typical school year usually equal $3,888, helping students save a significant amount of money on tuition as opposed to a four-year college or institution.
Gadsden aims to make education more accessible for all, and many students choose Gadsden State because of its competitive pricing.
Conclusion
Gadsden State Community College helps prepare students from all backgrounds for success through quality education and an inclusive community steeped in global engagement. The school offers a variety of clubs, organizations, volunteer service opportunities, and extracurricular activities aimed to thoroughly enrich the development of its students.
Learn more about Gadsden State here.
Sources:
Pictures